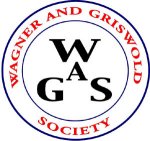 Cast iron cookware books and catalog reprints Compiled October, 2003, by Steve Stephens
BOOKS
1. The Book of Griswold & Wagner by David Smith and Chuck Wafford, Schiffer Publishing, 1995. has been reprinted and slightly updated in 2000 and 2003 with a more extensive update in 2005 (4th edition). Often called the "Blue Book", this is the best book by far of any done on cast iron cookware. 8-1/2 by 11, 320 pages, glossy paper, 900+ photos. Available in many bookstores and from several online sources including this WAGS site. Includes Griswold, Wagner, Favorite, Wpak, and Sidney Hollow Ware Companies. This is the first publication a collector or dealer should buy. While there are a few mistakes and the prices are not always up to date, it is an excellent book with many, clear photos. Prices of items included. Very Highly Recommended! $29.95
2. The Book of Wagner & Griswold by David Smith and Chuck Wafford, Schiffer Publishing, 2001. Slightly revised and updated in 2003. This is the "Red Book" and should be your second book purchase on iron cookware. 8-1/2 by 11, 256 pages, glossy paper. Includes additional information on Griswold and Wagner but does not duplicate the Blue Book. 845 photos including 255 pieces of Griswold and 350 pieces of Wagner, not in The Book of Griswold & Wagner. Also includes chapters on Martin, Lodge, Vollrath, and Excelsior (G.F. Filley). Prices of items included. Highly recommended. If you buy only one book I would recommend the Blue Book, above, before this Red Book. As a set you can't beat them. $29.95
3. Griswold Muffin Pans by John B. Haussler, Schiffer Publishing, 1997. 8-1/2 by 11, 148 pages, glossy paper. This excellent book covers all known Griswold muffin and muffin type pans, including all variations, known at the time of publication. Prices are included but seem to be high compared with what the pans are actually selling for. That does not distract from this book which has 353+ clear photographs of all the pans plus line drawings showing markings of all the 226 variations. If you are interested in muffin pans this book is a must. Very well done and highly recommended. $29.95
4. Griswold Cast Iron (Vol.1)by L-W Book Sales, 1993. 8-1/2 by 11, 170 pages. May be glossy paper on later editions. I had a lot to do with providing photos and information on this book but was disappointed by the outcome. Done by a publisher that knew nothing about the subject, the book seems to have been rushed to print without proper proof reading. Suffers from poor layout and terminology along with having a lot of mistakes. This book should have been better. It has been reprinted several times with different cover colors. The photos are not crisp like the books listed above. However, I do recommed this, and other L-W Book Sales books because they do include information and photos of items that do not appear in other books or catalogs. Buy the Blue and Red books by Dave Smith first and then add this and the other L-W books. You won¹t be disappointed if you don't expect too much. $19.95
5. Griswold Volume 2 by L-W Book Sales, 1994. 8-1/2 by 11, 132 pages, glossy paper. Has the same shortcomings as the first volume of this two volume series. All new photos and information but with a lot of errors. I do recommend that interested collectors do purchase this book for the added information. Worth getting after you have learned all you can from the better books out there. Again, be careful of the information because of the frequent mistakes. Prices included but may be out of date or not realistic. $19.95
6. Collectors Guide to Wagner Ware and Other Companies(with prices) by L&W Book Sales, 1994. 5-1/2 by 8-1/2, 123 pages. A good book worth buying after you have bought the better books. Like all the L&W Book Sales books, this one suffers from mistakes and not the best photo quality. Recommended after you get the better books out there. $10.95
7. Griswold Cast Collectibles, History & Valuesby Bill & Denise Harned, 1985 5-1/2 by 8-1/2, 191 pages. This was the first book on Griswold and was referred to as "The Bible". With nothing else written it was a great book to have back then. However, it, too, has a number of mistakes and strange values given for some items. Reprinted many times, it was recently available and may still be. A lot of copies were sold. Shown on the bright red cover is an ERIE Skillet Clock.
$13.50 from David Smith The Pan Man
8. Antique Iron, Identification and Values by Kathryn McNerney, Collector Books, 1984. 5-1/2 by 8-1/2, 224 pages. Written in a strange style, many mistakes, I still recommend this book for its numerous photographs of all kinds of household cast iron - not just iron cookware to which about 60 pages are devoted. This book is still available I believe.
9. 300 Years Of Kitchen Collectibles by Linda Campbell Franklin, Books Americana, 1991. Now in its greatly expanded 5th Edition of 2003 that must contain about 900 pages. 8-1/2 by 11. Loaded with photos, illustrations, information, prices, etc. Dave Smith provided an extensive treatment on muffin pans on 25 pages alone. Griswold, Wagner, and other makes of cast iron cookware is not highly featured except for hte section on muffin pan but there still are a good number of pieces of different types and ages shown. Recommended book on all aspects of kitchen collectibles. $32.95
10. ANTIQUE IRON - Survey of American and English, From 15th through 19th Centuries. Schiffer 8 1/2 by 11 Hard Cover , 320 pages, 915 photos and 66 drawings. This quality book includes kitchen utensils, fireplace equipment, lighting devices, fire marks, tools, toys, weather vanes, architectual hardware, and gates. $59.95
CATALOG REPRINTS
1. Griswold Mfg. Co. Catalog and Price List of Fine Hollow-Ware and Stove Furiture 1890-91 Original reprint by Courtney McClendon c.1990. This catalog is still available from another source and in better quality. 5-1/2 by 8-1/2, 77 pages. Print quality decent; binding weak. This is a nice little catalog that shows many early ERIE pieces made before pattern numbers on Griswold items. Illustrations include such rare pieces as coal shovels, fireplace sets, stove pipe shelves, cuspidors, copy press, umbrella stands, gem pans, etc.. Without this reference, you may pass some of the rare, unmarked Griswold treasures. $16.50
2. Griswold Mfg. Co. Catalog--S 1895. Griswold Catalogue S 20 pages, 3-7/8 by 7. This catalogue is dated November 1st, 1895. It has a letter to its customers about the purchase of John Savery's Son & Co. patterns. Also lists other items purchased from this transaction and includes Square and Oval Waffle Irons, Oblong Griddles, Coffee Roasters, Export Hollow-Ware, Charcoal Furnaces, Solder Pots, ash Pit Mouths, Polished Iron Mortars, Etc. $11.50
3. Griswold Mfg. Co. Catalog No.45. c.1915. 6 by 9, 138 pages. Excellent quality reprint on slick paper may still be available from Larry and Sue Foxx or Sally Swanson and is available from Dave Smith. Contains the following bulletins: A-5 Cast Aluminum Ware, E-3 Extra Finished Iron Hollow Ware, W-4 Waffle Irons, D-3 Dampers and Stove Hardware, K-3 Household Hardware Specialties (food choppers, sad irons, etc.), R-4 Gas Ranges-Hot Plates-Heaters. This is an excellent catalog reprint with a lot of information. Highly recommended. $25.00
4. Griswold Mfg. Co. Catalog No.47. 1918. 5-1/2 by 8-1/2, 128 pages. Reprinted 1996 by L-W Book Sales and may still be available from them. Includes the following bulletins: A-9 Cast Aluminum Ware, E-5 Extra-Finished Iron Hollow Ware, W-7 Waffle Irons, D-5 Dampers and Stove Hardware, K-4 Household Hardware Specialties, R-8 Gas Hot Plates, O-2-B Bolo Ovens, H-6 Gas Heaters. Photos and print of good quality with a lot of useful information.
5. Griswold Extra Finished Iron Hollow Ware, Bulletin E-9. 5-1/2 by 8-1/2, 24 pages. c. 1925. A nice little catalog of good quality reprinted as a special limited edition for a Griswold Swap Meet, April, 1995 by Joe Noto. Probably no longer available.
6. Griswold Catalog No.55, c.1930. 6-3/4 by 9-3/4, 136 pages. Comprised of the following bulletins: E-11 Iron Hollow Ware, A-15 Cast Aluminum Ware, EA-2 Electric Appliances, W-12 Waffle Irons, K-9 Household Hardware, R-14 Gas Hot Plates, O-7 Ovens. The individual bulletins are dated from 1926 to 1930. Originally reprinted by Chuck Wafford. Print quality and amount of material shown is excellent; binding weak. Probably no longer available. Highly recommended.
7. Griswold Extra Finish Cast Iron Cooking Utensils, Mail Boxes, Food Choppers. 39 pages. Originally printed March 1940, 5000 copies. 8-1/2 by 11. Reprint by unknown person but recently available in limited numbers from an eBay seller. Includes Extra Finished Cast Iron Cooking Utensils, Mail Boxes, Hinged Cover and Hammered Cast Iron, Chrome and Silverlike Cast Iron, and Iron Mountain Cast Iron Utensils. A lot of information not shown in other catalogs.
8. Griswold catalog 1940-42. 84 pages, 8-1/2 by 11. Includes Pre-Seasoned Cast Iron, Mail Boxes, Meat and Food Choppers, Cast Aluminum Cooking Utensils including Aristocraft and Hammercast, Dampers, Gas Hot Plates, Quik-Bake and Gas Stove Ovens, Chromed Table Service Utensils. Recently available and may still be from David Smith or Larry Fox. High quality reproduction on glossy paper with excellent print and photo quality. More new information not in other catalogs. Highly recommended. $19.95
9. Griswoldcatalog and miscellaneous information compiled and reprinted in 1985 by Jim Laughlin. 8-1/2 by 11, 80 pages, spiral bound, good quality reproduction. Contains misc. Griswold catalog sheets, Dec. 1950 price sheets, Pre-Seasoned Cast Iron c. 1940's, Dampers, Food Choppers, a section of Griswol's ERIE Cast Aluminum Ware c.1905, Flat Aluminum Ware, and Sheet Aluminum Ware. Again, a lot of information not seen in other catalogs. Probably not available.
Wagner
1. Wagner High Grade Hollow Ware Catalog Number Ten c.1902 6" X 9-1/2", 72 pages. Very good reprint by Glen Miller on glossy paper. This early Wagner catalog reprint is complete including the storekeepers notes on various pages. Illustrated is Wagner¹s complete line of iron and aluminum of the period, including skillets, kettles, muffin pans, griddles, waffle irons, broilers, toys, and hardware such as iron downspouts, sash weights, bob sled runners, hitching post, etc. $25.00
2. Wagner Ware Catalog Number Twenty 1915. 7 3/4" X 10 3/4", 112 pages. Reprinted by Gary Franzen (deceased). This very high quality reprint has crisp print and photos. It is nine years earlier than catalog 30, so you can compare the Wagner product line in both aluminum and cast iron. This catalog contains many unique items including the toy Facimile Kettle. $22.00
3. Wagner Cast Aluminum, Polished Iron, Nickel Plated Catalog Number Thirty 1924. 7/34" X 10-3/4", 90 pages. This excellent reprint by John Wright with clear print and photos features nearly equal numbers of aluminum and cast iron products. It includes both aluminum and iron toys, molds, waffle irons, skillets, kettles, etc., some of which are rare. $25.00
4. Wagner Ware Catalog Number 581938. 8-1/2 by 11, 32 pages. This reprint is complete, but contains just aluminum. To the best of our knowledge it is the last cataloging of Wagner aluminum before production all but ceased during WWII. It illustrates a large number of seldom-seen to very rare items. $25.00
5. Wagner Cast Iron Ware Catalog No. 58-Iron 1931. 8" X 10-3/4", 24 pages. Shows Wagner's line of iron cookware plus sugar & furnace kettles, fruit & lard presses, boilers, tampers, and mauls. Very clear print and photos. $20.00
OTHER MAKES AND MISC.
Foxell & Jones's, Price List of Hollow Ware 1875. Good 8-1/2 by 11 Xerox copy, double sided as the original, from an original 24 page catalog that measured 3 by 5-1/2. Foxell & Jones of Troy, NY, was a major early maker of iron hollow ware. They also were the exclusive manufacturers of the Spoor's Parlor Stove Furniture (strange tea kettles, etc.) and the type of stove that used these pots is shown. There are over three dozen different items of Hollow Ware, most of which are illustrated and priced for the trade.
A limited number of reprints are available from Steve Stephens 415-453-7790. Email me for availability before sending money. $7.00 pp.
Wapak Catalog and Price List c1912. 5 1/2" X 7 3/4 ", 55 pages. An excellent reference of the early products of the Wapak Hollow Company, including skillets, griddles, kettles, waffle irons, gem pans and sad irons. Also illustrated are hardware items such as lawn furniture, urns, hitching weights, etc. $15.00
Kettles & Cookware newsletter by David Smith. This is a very highly recommended bi-monthly quality newsletter with photos and lots of information about all kinds of cast iron cookware due to cease publication after Dec. 2003. All back issues (12 volumes going back to 1992) are currently available from David as far as I know. Email him to find out: David Smith